Laboratory
TerraLab named after Ivan Gogolev and created by TerraTarsa Ukraine conducts agrochemical research according to all international standards. This is a world-class laboratory, the only one in Ukraine, created to solve the problems in the agrochemical field. All processes are as fully automated as possible. The influence of the human factor on the results of the analysis is eliminated. The accuracy and stability of measurement results are guaranteed. The conducted analyses enable the development of scientifically grounded-system for nutrition of agricultural crops that will increase their productivity.
The TerraLab laboratory means:
modern equipment;
high level of specialists;
high quality of reagents;
adherence to the international standards.
The laboratory conducts analyses on:
the content of nutritional elements in the soil;
quality of water intended for irrigation;
supply of plants with nutritional elements;
the quality of mineral and organic fertilizers.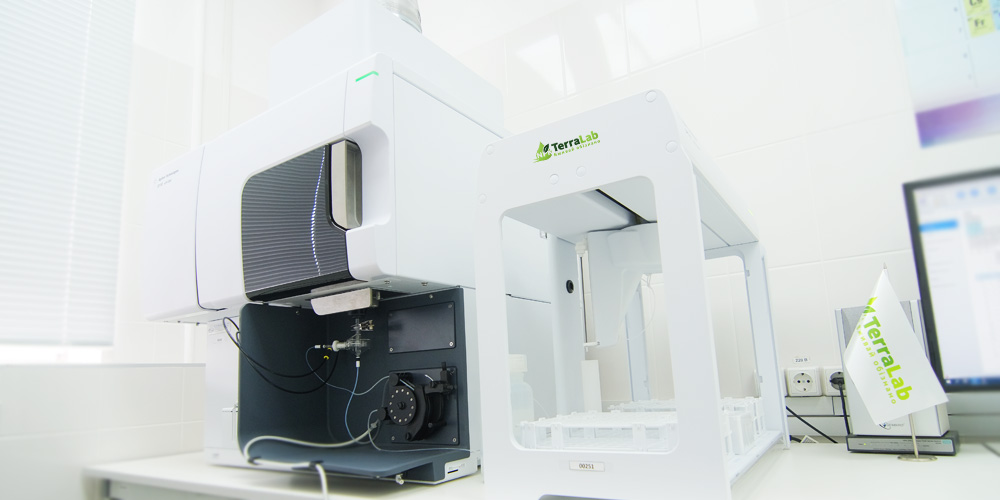 TerraLab specialists will tell you everything you have always wanted to know about your plants, but have not had the opportunity to find out in the past.
Soil research: soil analysis to determine the content of the nutritional elements available to plants is the basis for planning fertilizer systems. We will carry out corresponding analysis in accordance with international standards.
Plant research: the diagnostics of plant nutrition during their vegetation enables the timely determination of the deficit of all elements and adjustment of the fertilizer systems. The corresponding diagnostics is implemented using the system of microwave expansion provided by the world leader, the Milestone company, that guarantees high accuracy and promptness of analysis.
Water research: water analysis to monitor such indicators as pH, EU, and the content of toxic ions and nutrients will be useful to those who grow products using irrigation.
Fertilizer research: quality of fertilizers is one of the determining factors of their effectiveness. Our laboratory enables us to carry out qualitative analysis of both mineral and organic fertilizers to determine their composition and safety of use.
Soil sampling
Water sampling
Plant sampling
Fertilizer sampling
List of normative documents